Ceramic Coating in Kitsap County
Proud to offer discounted services to active and retired military!
8AM – 5PM | MONDAY – FRIDAY
Ceramic Coating in Bremerton
Simply Clean Automotive has brought joy to many Kitsap County motorists throughout the years by breathing new life into their used vehicles with the power of professional detailing services. One of the best methods of restoring and protecting the exterior surface of your car, truck, or SUV is by having a team of professionals like ourselves install a ceramic coating on the painted exterior surfaces. If you're in the market for protection and shine – having our team install a ceramic coating in Bremerton is the way to go! Looking for ceramic coating in Bremerton? You've come to the right place!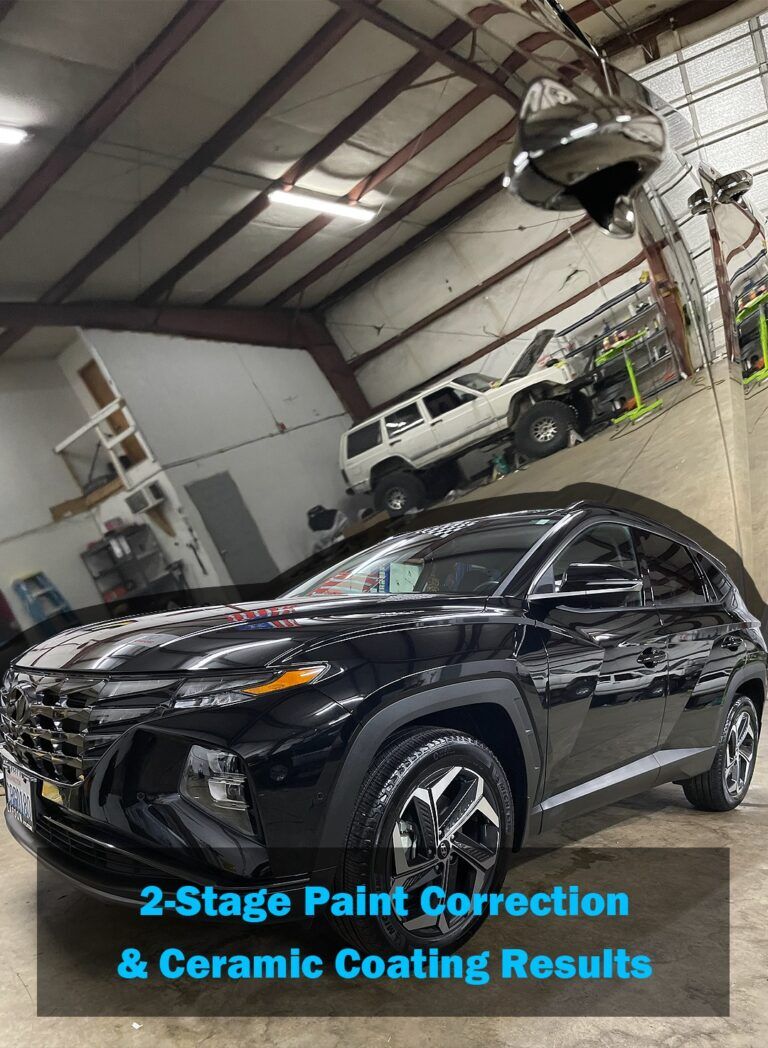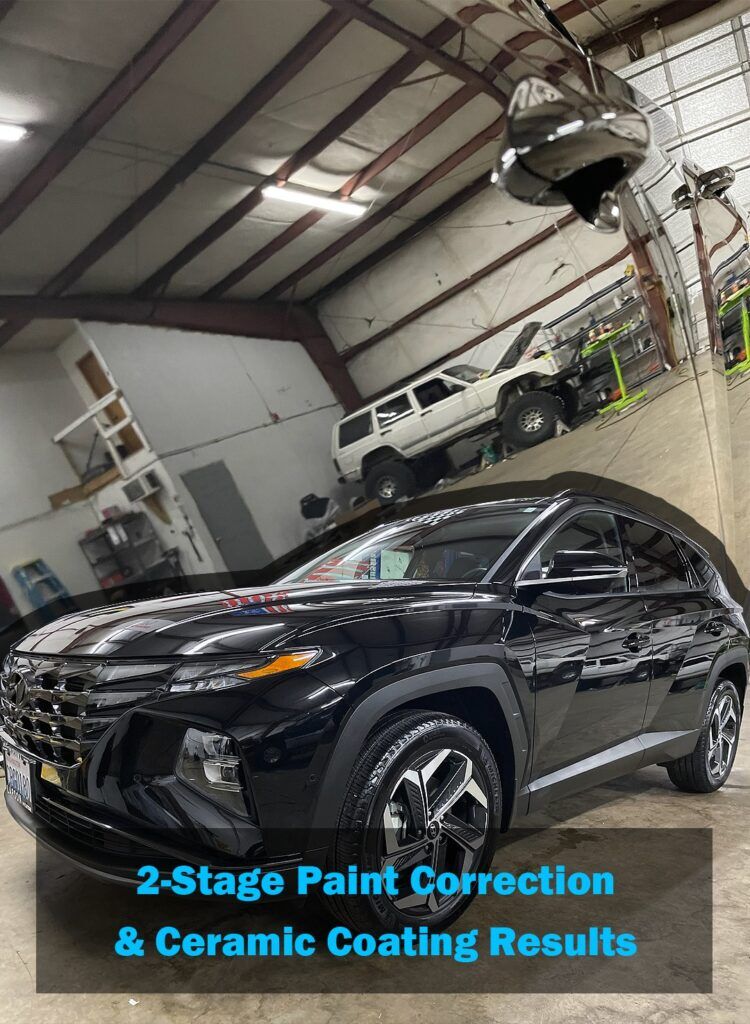 Year-Round Protection & Shine
We understand the importance of surface protection to a car's look and feel. As such, we only allow certified technicians to work on your ride. You don't want the sun, rain, snow, or road salt affecting your vehicle's shine! By installing a protective coating, our experts create an impressive barrier between your ride and those harsh elements. Whether it's winter or summer, your paint remains pristine all year thanks to our durable ceramic coating application process.
Applying ceramic coating in Bremerton is a smart idea for a number of reasons, most important of which is the protection of your vehicle's paint work from our sometimes harsh weather and road conditions. The ceramic products we use provide a water and particle-resistant surface that is easier to clean and maintains a candy-like gloss. Looking to make your freshly applied ceramic coat last longer? Talk to our ceramic coating experts about the tips and tricks they use to maintain a glossy shine and protective film for as long as possible.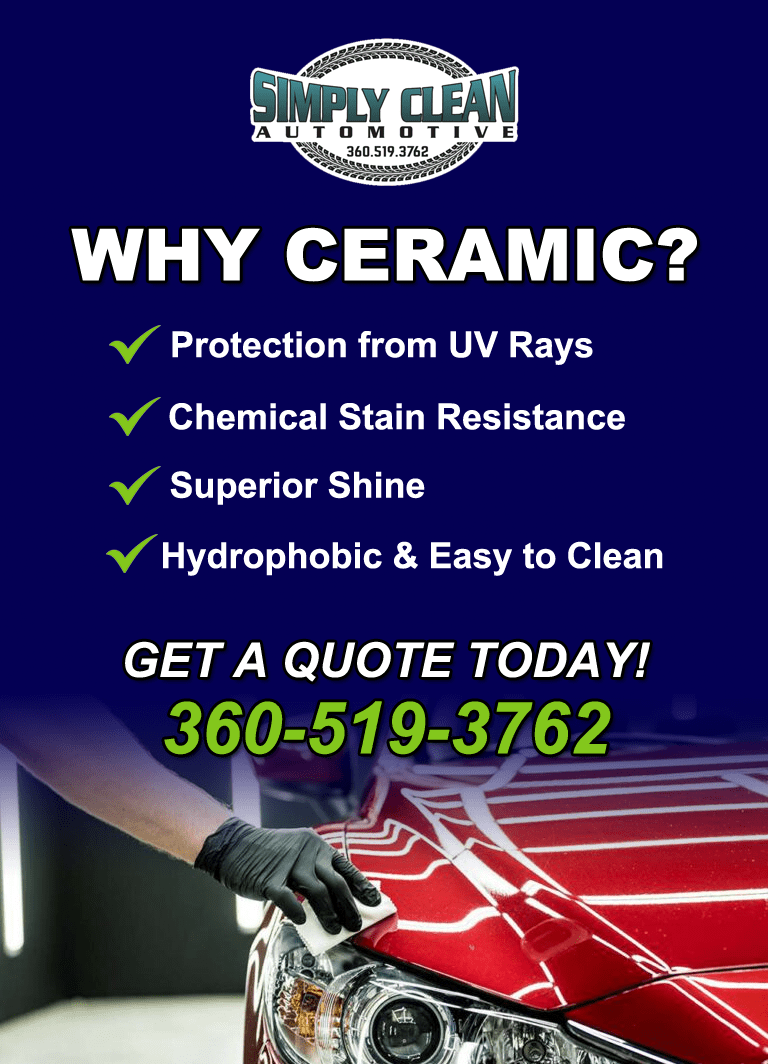 Get a Ceramic Coating Quote!
** Please note that for a final quote to be provided for paint correction or ceramic coating in Bremerton, we'll likely need to see your vehicle, boat, or RV first-hand. It's important that we are able to inspect the current condition of the exterior paint so that we may provide a more accurate quote. Thank you for understanding! **
Top-Quality Ceramic Coating in Bremerton
Our rates for ceramic coating are highly competitive – but don't let that fool you, we do excellent work applying ceramic coating in Bremerton. Not only are our ceramic coating in Bremerton rates affordable, you'll also no longer waste money on low-quality brands with our experts on your side. We have taken the trouble to test different coatings, so our clients don't have to. Our years of research and experience have led us to several options that are affordable, effective, and easy to maintain.
Of course, the best part of these products as a whole is that the coating they create makes a chemical bond with your vehicle's exterior paint to preserve its look longer and more effectively. Simply put, our ceramic coatings eliminate the need for traditional car waxes. Though it does also safeguards the car's exterior, waxing is expensive since it requires regular renewal. It's also not uncommon for the wax to shrink after washing your ride.
Refresh Your Ceramic Coating in Bremerton
Ceramic coating does take some upkeep, minimal as it is. But you don't ever have to worry about taking care of this by yourself! We offer ceramic coating refresh services for just that purpose! Our specialists start with prepping your car before installing the ceramic coating. Panel wipes, paint correction, and decontamination car cleaning ensure you get the best out of the ceramic coating service. We're always ready to uplift your car's appearance and value with quality ceramic coatings. Our experts are also available to answer all your detailing questions. Get in touch with us today for expert ceramic coating in Kitsap County, WA!