Auto Repair & Detailing in Kitsap County
Proud to offer discounted services to active and retired military!
8AM – 5PM | MONDAY – FRIDAY
There's a reason that when it comes to detailing in Kitsap County, Simply Clean Automotive in Bremerton, WA is Google's highest rated! Our team strives for excellence in every detail and repair job – and our customer-centric culture adds value to our services that folks around Bremerton and Port Orchard really enjoy! Step through the front door of our Bremerton location and you're immediately welcomed with a smile and the assurance that we can handle your automotive detail needs, as well as other jobs like automotive repair, and even RV & boat detailing, too!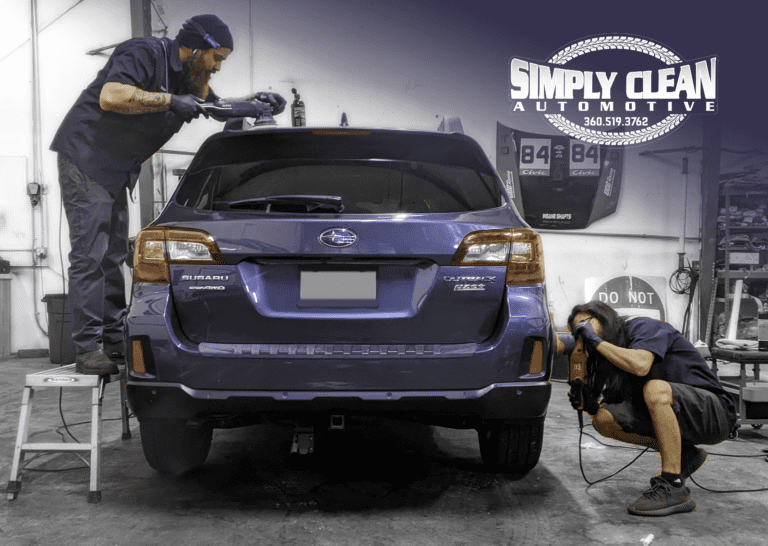 I just had my car's interior thoroughly detailed including trunk, exterior wash and detail, engine bay sprayed down, checked for brake problems, light problems, fluid needs. Marcus and his team did an excellent job on all fronts. Even needed a side mirror replaced which was no problem. I had an easy time selling the car afterwards with the work they put in. If you're in the greater Port Orchard, Bremerton, Gig Harbor areas and beyond, don't waste any time looking further for your detailing and mechanical needs. Such a down to Earth guy and a pleasure to do business with. Support our locals and their small business 👍🏼
Marcus and his team made my car look brand new. It was amazing. They also did great work at changing my brakes and rotors. They looked into why my engine light was on and took care of it. They are a great, reliable place to go.
They are very friendly and well priced. They went above and beyond to help me get my car fixed quickly. You don't really find that kind of service anymore. Thanks for all the hard work!
I LOVE simply clean!! Both times I have used their services it was in a moment of distress. First, from a door being left open for a month and water pooling, then from a mouse nesting in my car. Both times simply clean went way above and beyond anything I expected them to do, and did it at an incredibly fair price. I highly highly recommend 🙂
Marcus and his team were amazing! We had both our Jeep and Truck fully detailed this week. The extra attention to detail and care in providing services far exceeded our expectations. We were so pleased to work with Simply Clean Automotive! We highly recommend them!
We have taken multiple vehicles to Simply Clean Automotive. Everything from putting a new fuel tank in our truck to complete detail service on our car. Love the professionalism and they are always on top of communication.
Really fantastic job! My truck looks new again. My Long haired German Shepard leaves a trail of hair everywhere she goes and the pitch from the trees was all over my truck, they got it all off , they even got most of the scratches out too. WOW GREAT JOB GUYS THANKS
Recently got my 2004 Chevy Silverado and my daughter's 2002 Prius detailed, both vehicles were meticulously detailed and the ceramic top coat appled to the exterior of really makes a deep protective finish. Could not be happier with the interior and exterior, well worth the money, will be bringing in my wifes car and my son's car because of the attention to detail. Thank you Markus and crew!
Labor intensive oil change on our 2013 BMW X5--very reasonably priced. Successful brake job on our 2011 BMW 550i followed by show room quality detail--no more cookie crumbs or infamous PNW algae. Hallelujah! We're spacing our repeat visits being BMW enthusiasts as we have a third car ready for the Simply Clean experience. Very happy to return and confident to recommend to friends and neighbors.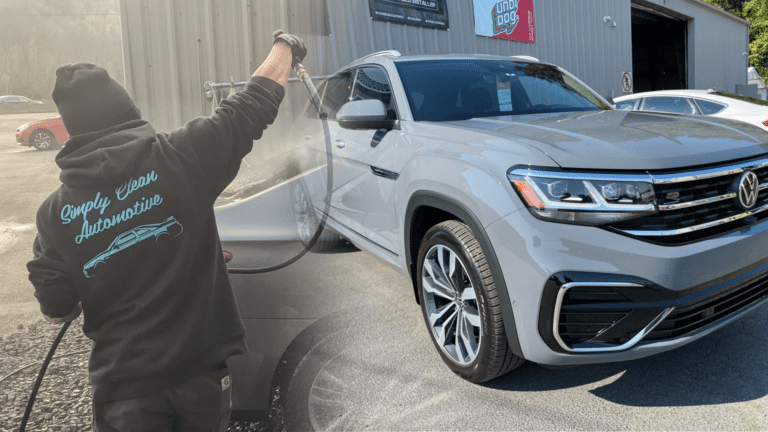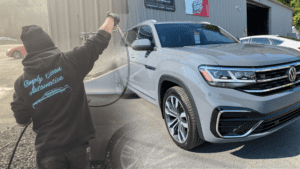 Should I Detail My Car Before Selling It? The title question of this article is one asked by thousands of potential car-sellers across the nation,
Read More »
FREE Inspection for Every Detail Visit!
We're proud to say that there's one more thing to enjoy about a Simply Clean Detail in Bremerton, WA! Beginning with the 2023 new year, every customer's vehicle that comes in for a detail (no matter if it's a big or small job) will also receive a thorough multi-point safety and mechanical inspection by a trained automotive technician, all for no extra charge! Not only will you leave our lot in a fresh, clean vehicle – you'll have the reassurance that your ride is in peak running condition! Or, if we find something of concern during the free inspection, you'll have that important knowledge on your side, so you may take action as you please!
We Have Auto Repair Experts, Too!
At Simply Clean Automotive, we're well known for our expertise in automotive detailing, but did you know that we also employ a team of skilled and experienced technicians to perform automotive repair in Bremerton, too? That's right! The same shop you've come to trust for impeccable detailing magic is also where you can go for reliable automotive repair in Kitsap County! We take on all kinds of auto repair jobs every month, with fixes ranging from brake repair to simple oil changes! We can even replace your engine if need be! Give us a call at 360-519-3762 or click here to visit our online automotive repair center.
We're the Ceramic Coating Pros!
When you're looking for the ultimate protection for your vehicle against road debris, salt, paint, water-spots and other unattractive exterior clingers-on, you're certain to run into tons of different kinds of protection options. Luckily, when you work with the experts at Simply Clean Automotive, you're well taken care of with a range of options for exterior paint protection. Ceramic coating in Bremerton is an important part of keeping your vehicle fresh and showroom floor ready – so why not give it a shot! Our experts rely on years of experience and training to properly apply highly rated paint protection products to your vehicle's painted surfaces, restoring a shine you may have never known possible, and bringing the ultimate protection to your ride's appearance. Click here to read more about our ceramic coating options.
We Detail RVs, Boats, and Trailers, Too!
While we're known around Kitsap County for our impressive record of detailing and repairing cars, trucks, and SUVs – we also offer services for cleaning and detailing recreational vehicles, boats, and utility trailers! Sure, people love seeing ceramic coating on a new shiny car, but have you considered the longevity increasing benefits of having your RV ceramic coated? Or your boat! No matter if the job is big or small, our shop and team has the know-how and dedication to complete your RV detail, boat detail, or trailer detail on time and with impressive results! Call 360-519-3762 today or visit our RV detail center online to learn more or schedule an appointment!
Experience the Simply Clean Difference!
Here at Simply Clean Automotive in Bremerton, WA we are proud of our stellar record of accomplishment when it comes to car detailing, auto repair, and most importantly, customer satisfaction. Take a moment to read what our customers are saying about us, and it'll become clear that we are your go-to one-stop shop for high-quality services that maintain and improve the condition of your car, inside and out. Our team of detail and repair specialists take the utmost pride in all the vehicles and customers they serve, because that's just part of doing good, honorable business.